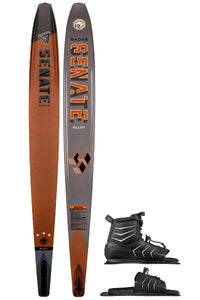 Share with your friends...
About the Alloy Senate w/ Vector & Vector ARTP | 2023
What Radar says:

SENATE ALLOY
The Senate's ability to carry speed is unmatched in the industry. This speed allows the skier to maintain width on the boat ultimately giving a sense of freedom sought after by those that ski in the course as well as those ripping open water turns. By taking our Vapor shape and adding two tenths of an inch in extra width we have created a stable riding platform. This platform creates the balance needed for a skier to feel at home, while the profile of the ski allows the skier to feel the speed and angle sought after at any level.
Our most popular ski, the Alloy Senate utilizes a polyurethane core with Paulownia wood stringers wrapped in carbon fiber. This beauty of a ski is stable but fast and an absolute blast to ride whether you're ripping open water turns or getting into some course action. Ski the Alloy Senate from 26-34 MPH and enjoy the ride.
- All-Terrain Core – Most forgiving construction.
- 100% Carbon Fiber - Consistent flex every time.
Sizes: Small (5-8), Standard (7-11), XL (10-14)
| SIZE | SURFACE AREA | MAX WIDTH | SUGGESTED MAX SPEED | TERRAIN | RECOMMENDED WEIGHT |
| --- | --- | --- | --- | --- | --- |
| 65" | 351.10 SQ" | 6.94" | 34 MPH | CROSSOVER | Up to 170 lbs / Up to 77 kg |
| 67" | 379.42 SQ" | 7.16" | 34 MPH | CROSSOVER | 160 – 200 lbs / 73 – 91 kg |
| 69" | 403.41 SQ" | 7.37" | 34 MPH | CROSSOVER | 180 – 220 lbs / 82 – 100 kg |
| 71" | 414.07 SQ" | 7.37" | 34 MPH | CROSSOVER | 200+ lbs / 90+ kg |