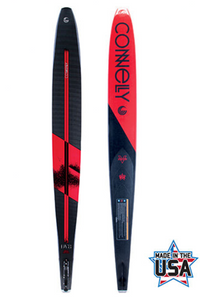 Share with your friends...
About the DV8 Waterski | 2021
What Connelly Says:
THE MOST CUSTOMIZABLE SKI EVER
Introducing, a flagship ski brand new for 2021, the DV8. Featuring patent pending VersaTail technology, this is the most customizable ski ever. Welcome to a new dimension in fine tuning.

Throughout the years, brands have been on a quest to create a ski that checks all the boxes. Yet because skiers have varying styles and skill sets, the one-shape-fits-all approach doesn't always pan out for everyone.

With the DV8 and VersaTail, you choose how your ski rides and reacts.
2021 DV8 BINDING PLACEMENT AND FIN SPECIFICATIONS
The factory fin settings are 2.520" deep, with a length of 6.840", and 0.745" distance from the tail of the ski using VT tail piece (see diagram). A more accurate and repeatable method for measuring DFT is by removing Versatail and measuring from the Versatail mounting serface to the end of the fin. In this case the DFT is 0.070". A caliper is the best way to check these measurements. Fin tuning instructions, an Allen wrench and warranty information are included with your ski. The binding placement for each size ski is listed below. This is measured from the heel of the front binding to the tail of the ski.​
| | |
| --- | --- |
| SIZE | BINDING PLACEMENT |
| 65" | 28 ⅜" |
| 66" | 28 ⅞" |
| 67" | 29 ⅜" |
| 68" | 29 ⅞" |
| | |
| --- | --- |
| DV8 ADVANCED FIN SETTINGS | Water Below 75°F = Reduce DFT by 0.005" |
DFT
​(FLAT)

WING
​(34 MPH)

Up to 130lbs

65"

28 ⅜"

Skiers up to 28 off

6.820"

2.510"

0.735"

7°

8°

17.118 in.²

Up to 130lbs

Advanced Option 1

6.803"

2.519"

0.740"

8°

9°

17.137 in²

Up to 130lbs

Advanced Option 2

6.950"

2.446"

0.761"

7°

7°

17.910 in.²

130 - 160lbs

66"

28 ⅞"

6.830"

2.515"

7°

8°

17.177 in.²

130 - 160lbs

66"

6.813"

8°

9°

17.196 in.²

130 - 160lbs

66"

28 ⅞"

Advanced Option 2

6.960"

2.451"

0.766"

7°

7°

17.059 in.²

160 - 190lbs

67"

29 ⅜"

Skiers up to 28 off

6.840"

2.520"

0.745"

7°

8°

17.236 in.²

160 - 190lbs

67"

29 ⅜"

Advanced Option 1

6.823"

2.529"

0.750"

8°

9°

17.255 in.²

160 - 190lbs

67"

29 ⅜"

Advanced Option 2

6.970"

2.456"

0.771"

7°

7°

17.118 in.²

Over 190lbs

68"

29 ⅞"

Skiers up to 28 off

6.850"

2.525"

0.750"

7°

8°

17.296 in.²

Over 190lbs

68"

29 ⅞"

Advanced Option 1

6.833"

2.534"

0.755"

8°

9°

17.315 in.²

Over 190lbs

68"

29 ⅞"

Advanced Option 2

6.980"

2.461"

0.776"

7°

7°

17.178 in.²

JOEL HOWLEY

67"

29 ⅜"

36 mph

6.835"

2.533"

0.750"

 

9°

 

SETH STISHER

66"

29 ¼"

34 mph

6.825"

2.525"

0.725"

7.25°

 

 
FIN SETTING ADVICE FROM JOEL
"My advice would be for skiers to begin with the stock settings before experimenting with both advanced option one and two. Option one is slightly more stable, however, option two will require less movement to initiate the turn. If you cannot decide between option one and two, remember the skis will work extremely well with either setting.

Generally, elite skiers run more surface area and will prefer to run their fin back/deep/short (option1) or forward/shallow/long (option 2).
​
It's possible to 'tweak' your fin for years and never truly test each end of the spectrum, however, this chart should significantly reduce the time and knowledge required to find settings which match your skiing."