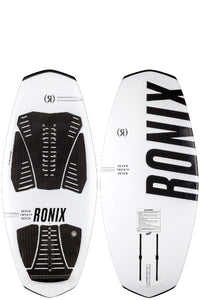 Share with your friends...
About the Koal Surface 727 Foil Board | 2024
What Ronix Says:
5 years in the making – a new style of foil boards setting the tone for styles, abilities, and varying weight ranges. 
Foiling is so unique – requiring the finest design elements of hydro and aerodynamics. If you are only focused on lift and speed – you might be sacrificing stability or response so finding that crucial balance between the two is everything.
Hydrodynamic Visionary
The greatest mind of watersports – Herb O'Brien Born on July 27th (7/27) 1944, he is regarded as the pioneer of the modern-day compression molded waterski, wakeboard, wakeskate and wakesurfer along with forever changing watersports footwear. As one of the main founders of Ronix, his spirit of endless innovation will live on forever.
Aerodynamic Visionary
Herb's father, Ed O'Brien was also born on July 27th (727) 1910 and grew up in the Seattle area. Ed had a landmark run in the field of aeronautics. One of the key engineers for the B17 and B47 airplane and the Bomarc, Minuteman missile and also helped out with the 727 airplane too. He carried his methodical mind over to developing the blueprint for the most historic man made waterski mecca – Radar Lake.
In tribute to these brilliant people in their respective fields, combining the best attributes of foiling (hydro and aerodynamics) - we proudly present the series: A collection of products giving homage to two people that both lived with a never-ending mindset of product revolutions.
FEATURES
4 points - We have been analyzing the most important needs in a proper foil board. Those would be deflection, buoyancy, tempo, and footwear.
1.DEFLECTION
When you are wakesurfing you always want contact with the waterline. That gives you the control to create leverage and speed. As we foiled more, we realized you don't want any of those qualities in your board. In wakefoiling, your angle and quickness should be coming directly from your foil. The board's job is to rebound off the water as quickly as possible allowing the mast to get back into the correct height again. We did this by creating a pronounced directional rockerline looking
to aid the take off and rebound the landing. Then we added exaggerated bevels covering the profile of the board to help displace the water as quickly / smoothly as possible
2. BUOYANCY
We found the best prototypes were the ones that would have medium rise when we were standing on them underwater. As boards got too thick it was difficult to do a deep-water start. Half the time we foil we start with the board underneath our feet in the water. If the board is too thin, you don't have enough buoyancy which won't create the feel we were looking for with the board as we were preparing to take off. Neutral buoyancy 2.0 for the flight variety is born.
3. TEMPO
The lighter board – the quicker /easier the initiation of a turn is – but if the board feels too light it will want to initiate a turn before your body does. Or vice versa – if the board is delayed from your natural movement – in either of these scenarios you have the dreaded cross up. Finding the right tempo in the shape and construction was vital. We shaped countless prototypes to figure out the balancing act of meeting buoyancy and swing weight needs – for a the right rhythm between rider and board.
4. FOOTWEAR
Straps are included - those first couple times you ride - your boat driver will thank you for using them. It's easier to get up with them while you learn to feel stable in a foiling body position.
CONSTRUCTION
KOAL SURFACE 
A construction incorporating the core of our high-end Flyweight Pro series but wrapped in a bulletproof Surface Skin. In short, the lightweight feel of your favorite high-end surfer, the durability of your favorite wakeboard, and a skin that breaks up the water for less resistance.
- 10" track length with industry standard 3.5" width between tracks
- Foil Specific Design – all attributes of the rocker, bevel, profile, swing weight were designed specifically for foiling
- Koal Surface Construction – Made from our popular Koal Classic core and then wrapped in super tough Surface Skin.
- Blended EVA Traction Pad – A compound made from both foam and rubber with machined grooves for a softer feel and the best grip in foiling.
- Footwear – Adjustable foot straps are included
- Inserts – 3 stance options for both your front and rear foot.
- Handmade by Robots – Every 727 Foilboard is made from a machined core to the exact tolerance we spec'd out.
- Lava Resin – Made from a high temp resin to withstand extreme heat.
SIZING
- Length available in 4'1 or 4'8
- Volume available in 14.8 or 19.8 Liters
There isn't a very direct coloration between board size and rider size.
We have had people 230 lbs. preferring the 4'1 and other people 175 lbs. preferring the 4'8.
Since there isn't much contact between the board and the water determining the board push and drive the way that there is on a wakesurf board – instead size is determined by ability and style.
Benefits of a 4'1 length
Greater overall response
Easier cutbacks
More power in your pumping
Benefits of a 4'8 length.
Easier deep water starts – if you are new to foiling you in addition to a shorter mast and a balance front wing this 4'8 length will help with your learning curve to foiling
More control, stability, and comfort in rougher water conditions