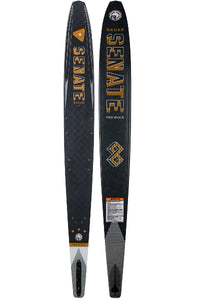 Share with your friends...
About the Pro Build Senate | 2023
What Radar Says:
Senate ProBuild
PMI foam is undoubtedly the lightest, most responsive foam on the market. We wrap that foam in Textreme spread tow carbon to make this Senate the fastest, most aggressive Senate we've ever created. Now those skiing 28-34 MPH in the course truly have a racecar of a Senate to write home about.
PMI Core - Lightweight, high density, most response.
Textreme Carbon - Lighter, stronger composites.
Carbon Rods – Zonal flex for the optimum layup.
Bio Resin – Plant based and better.
Radar Lab Made – Thanks Herb.
Terrain – Course
Recommended Speed Range – 28-34 MPH / 46-55 KPH
Sizes –
65"
67"
69"
Recommended Weight Range –
65" – Up to 170 lbs / Up to 77 kg
67" – 160 – 200 lbs / 73 – 91 kg
69" – 180 – 220 lbs / 82 – 100 kg