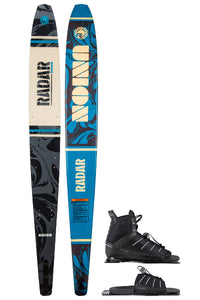 Share with your friends...
About the Union w/ Prime & ARTP | 2023
What Radar says:
UNION
The Union follows suit with our design methods by being four tenths of an inch wider than a Vapor. This extra width gives skiers the chance to feel ultimate balance while learning to ski at a higher level. We challenge you to find a ski that is more fun to ride in open water.
The Union is the undisputed favorite around the Radar Headquarters due to its easy to ride ability without sacrificing any performance. Extra width allows you to ride the ski at slower speeds and improve at a rapid pace. This ski performs amazingly well between 24-32 MPH and will have you making endless turns on the lake all day long.
- All-Terrain Core – Most forgiving construction.
- 100% Carbon Fiber - Consistent flex every time.

| SIZE | SURFACE AREA | MAX WIDTH | SUGGESTED MAX SPEED | TERRAIN | RECOMMENDED WEIGHT |
| --- | --- | --- | --- | --- | --- |
| 65" | 370.06 SQ" | 7.14" | 32 MPH | CROSSOVER | Up to 160 lbs / Up to 73 kg |
| 67" | 393.18 SQ" | 7.35" | 32 MPH | CROSSOVER | 130 – 190 lbs / 59 – 86 kg |
| 69" | 417.00 SQ" | 7.56" | 32 MPH | CROSSOVER | 175 – 230 lbs / 79 – 104 kg |
| 71" | 429.09 SQ" | 7.56" | 32 MPH | CROSSOVER | 220+ lbs / 100+ kg |