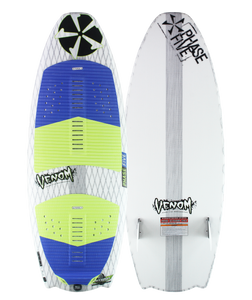 Share with your friends...
About the Venom Wakesurf Board | 2022
What Phase5 Says:
DESIGN: Fang Tail
SPECIALTY: Turns Quick & Boost
RESPONSE: High
There is a new board in town and it isn't your average superhero. Phase 5 went to work on creating a unique board to satisfy the cravings of those desiring an ocean surfing feel behind the boat. The Venom was designed for aggressive pumping, deep bottom turns, and monstrous pop while retaining the agility of modern competitive wake surfboards. The tapered blunt nose will attach the most vertical wave with ease and provide ample stability when landing revert. The hybrid bat tail design generates tremendous carving control with a relaxed release while still supplying plenty of push in the back of the wave. The Venom is built with Phase Five's FLEXtec V2 glass system. FLEXtec V2 gives the feeling of a traditional surfboard while delivering wake surf specific features. It comes with a Twin fin FCS surf fin setup to keep the board loose and lively. This board is built for shredding.
BOARD STABILITY:
LOW | MEDIUM | HIGH
RIDER SKILL:
BEGINNER | INTERMEDIATE | ADVANCED