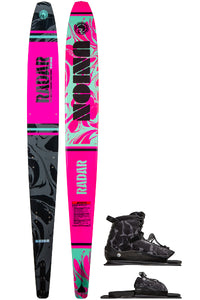 Share with your friends...
About the Women's Union w/ Lyric & Lyric ARTP | 2023
What Radar Says:
Women's Union
The Union is a dream, by adding width to our renowned Lyric shape we created a ski with even more balance and control. Made with a lighter weight carbon than our Men's Union so it has the ability to initiate turns with ease and keep the carves going all the way down the lake.
All-Terrain Core – Most forgiving construction.
100% Carbon Fiber - Consistent flex every time.
Terrain – Crossover
Recommended Speed Range – 24-32 MPH / 40-52 KPH
Sizes –
65"
67"
Recommended Weight Range –
65" – Up to 160 lbs / Up to 73 kg
67" – 130 – 190 lbs / 59 – 86 kg