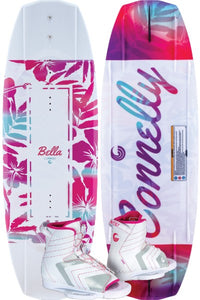 Share with your friends...
About the Bella Wakeboard with Optima Boots | 2022
What Connelly Says:
BELLA
To get the most fun out of wakeboarding your little lady ripper needs a board that will help build solid fundamentals. The Bella is designed to do just that. The subtle 3-stage rocker gives a little extra lift off the wake at slower speeds to build confidence for young riders. The 4x4 molded fins provide moderate grip and the removable center fin makes the board track straight without extra work.
Features
Easy stable ride for kids
System 80 core
Full spine
4x4 molded fins
2 bolt on 1.7" center Skater fins
Designed for: Novice
Size                        Center Width       Tip/Tail Width    Rocker Height    Rider Weight
124 cm                   15.69"                    9.50"                      2.15"                      ≤ 120 lbs
OPTIMA - WOMEN'S
The Women's Optima features a balance of comfort, fit, and ease of entry. The Lycra lined heel and toe make the boot easy to step into and a single lace system encloses the boot around your foot like it was molded just for you. This is a super light design that fits a wide variety of sizes.
Features
Easy to use open toe boot
Thick EVA footbed
Lycra lined molded heel and toe
Lace adjustable
6-Plate
Sizes
S/M (3-6)