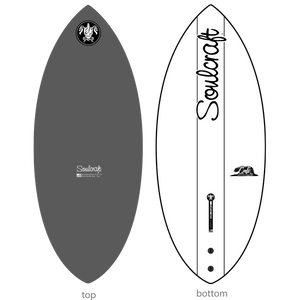 Share with your friends...
About the Cali Wakesurf Board | 2024
What We Say:  We are super excited to partner up with SoulCraft this year!  Even more excited to get these board in the water!  We'll get some first hand feedback/reviews up as soon as we can!!
What SoulCraft Says:
When we approached the design objective to advance skim, we dedicated ourselves to holding a true pin style shape in the new line. Where the Cali departs from the pop outs, is by pulling the build process out of the molds or tables and embracing it into the shaping room, lamination lab and through the hands of true craftsmen. We raised the level of prominence with the use of spruce stringers, carbon fiber and glass composite to improve stiffness, spring and responsiveness... we're pleased to introduce the Cali. 
Performance Focus: Advanced - Expert
Nose: Traditional
Tail: Pin
Fin Setup: Skim
Rocker: 
Flat
Construction: Epoxy / Poly / 2X Spruce
Available Lengths: 4'0"-4'7"
Includes: Board / Traction / Fins