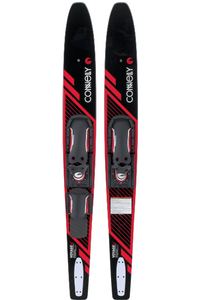 Share with your friends...
About the Voyage 64" Combo Waterskis
The Voyage combo pair use a traditional shape with a slightly wider frame, especially under the bindings and back to the tail. The extra surface area makes it easy to get out of the water and adds stability to the skis. Step base technology through the bottom tunnels reduce drag and give the skis a free maneuvering feel.
 Reinforced composite construction
 Step base technology for less drag
 Beveled tips for turn initiation
 High gloss UV coat
Size | Skier Weight | Foot Size
2 x 64 / 163 cm
| Up to 150lbs | 9-14