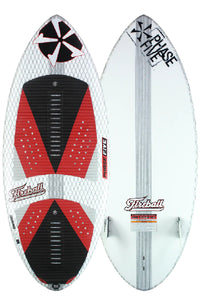 Share with your friends...
About the Fireball Wakesurf Board | 2024
What Phase Five Says:
If you can't decide on surf or skim style, why not have both? The Phase Five Fireball Wakesurfer uses the popular skim style Matrix outline and is constructed with our buoyant surf style foam core. When you are in the surf style mood, install the included 3.7 Surf Twin Fin Set at the fin plugs located on the outside rails. If you want some skim style action, remove the outside Surf Twin Set and install the provided skim style DT Fin in the center position near the tail. Compared to our other surf style boards, the Fireball has reduced volume and rocker to accommodate surf or skim style riding in a single package. Made with FLEXtec V2 layup for strength and built with FCS Fusion plugs for either twin fin surf or single skim fin setup.
CONSTRUCTION FEATURES:
• FLEXtec™ V2 Lamination
• V.R.T.™ Technology
• Reflex Speedrail
• Epoxy Resin
• FCS Fin Boxes
• Texture Finish
• EPS Core
• Flexspine™ Carbon Stringer
FIN SETUP:
• Twin Fin or DT Skim Fin
PAD:
• Deluxe Surf Pad + P5 Techno Grip™ Traction v2