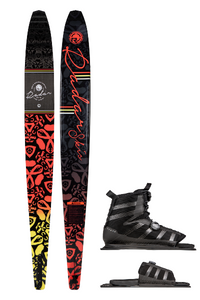 Share with your friends...
About the Graphite Lyric Waterski with Vector BOA & BOA ARTP Bindings | 2021
What Radar Says:
The Graphite Lyric gives those lady shredders looking for tighter turns and more speed behind the boat that extra edge. Ride the Graphite Lyric from 28-34 MPH for the optimum women's ski both in and out of the slalom course.
Aero Core - Forgiving and consistent response.
100% Carbon Fiber - Consistent flex every time.
CorFlex - Optimizing the flex in your ski's turning.
NFC Enabled - Information delivered simply