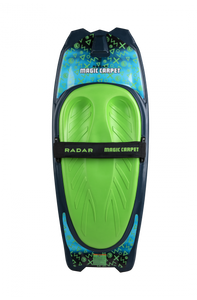 Share with your friends...
About the Magic Carpet Kneeboard
MAGIC CARPET
The Kneeboard, the summer classic that will never go out of style. We make three kneeboards that will be sure to handle anything you throw at them. From the compression molded, wake jumping, twin tip monster that is the Mission, to the fun and playful Hawk and Magic Carpet, you'll be stoked when you get done riding one of these boards.
Our modern kneeboard shape has a recessed EVA foam pad and single handle hook for the little ones to climb aboard. The design has increased surface area farther forward for stability and more pronounced molded in fins make it easy to ride.
- Durable Roto Shell
- Recessed Pad
- Single Locking Strap