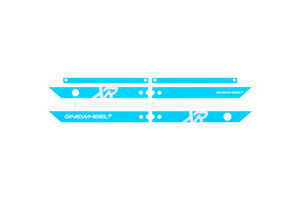 Share with your friends...
About the Rail Guards | XR | Hot Blue
What We Say:
These are a must have item for your new OneWheel.  Keep dust, dirt and debris to a minimum.  Plus the color pop is pretty sweet!
What OneWheel Says:
Make it yours and protect your board in style with XR Rail Guards. These stylish and durable Rail Guards come in a host of different colors and are an awesome way to customize your board and keep it fresh.
Backed with a strong adhesive and made of thick plastic to protect your board from the wildest adventures, the XR Rail Guards have got you covered.