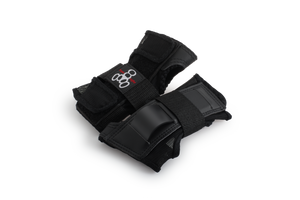 Share with your friends...
About the Wrist Guard
What We Say: Get a set... keep you from worrying,  lets you focus on the fun!!!
What OneWheel Says:  Don't be afraid to send it with these Triple-8 wrist guards. Comfy and snug with a flexible fit, these shock absorbing paw protectors are always a good idea. Pavement is hard, don't fight it alone.
To ensure a perfect wrist guard fit, measure hand circumference at the knuckles and match to the sizes listed below:
Size Guide (Approximate)
S 7.0 – 8.0 in (18-21cm)
M 8.0 – 9.0 in (21-23cm)
L 9.0 – 10.0 in (23-26cm)